The Arbre aux Hérons
On July 2017, Johanna Rolland, Mayor of Nantes and President of Nantes Métropole announced the launch of The Herons Tree project. It will be carried out over 5 years, the grand opening thus set for 2022 at the Chantenay quarry.
The planning phase began in 2017 and will end in 2019. The construction of the Heron Tree is a shared adventure. The creation of an endowment fund for the Heron Tree by Nantes Métropole has allowed for public and private partners to work together. It also opens the possibility for individuals to share in this artistic adventure.
The crowdfunding campaign was a huge success!
Thanks to you we have gathered 373 525€ over the 7 weeks of our campaign!
Thank you to the 5511 friends of the Herons' Tree! This campaign is now over, but many of you still want to support the project.

Contact us to do so: participer@arbreauxherons.fr
Read more about the Arbre aux Hérons
Download your crowdfunding reward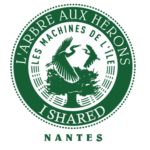 ---
The Arbre aux Hérons in the Galerie des Machines
Since the launch of the 2017 planning phase for the Heron Tree, the Galerie des Machines has been a place to share this incredible artistic adventure, which is also a great technical and industrial challenge. Not unlike a tree, its construction is a living process.
In 2018, the crucial prototypes for the studies of the Heron Tree will be set up in the Galerie. A large 1:5 scale model of the trunk, branches, struts, and roots will be exposed. And you can discover the first elements of the mechanical aviary: a giant hummingbird gathering nectar from a flower, and a flock of wild geese.
Until the final months of its growth and the expansion of its foliage, the final struts that have been planted will begin to lower their loads, like the sprouting roots of a giant Banyan tree. The Tree's mechanical menagerie will continue to grow and evolve throughout its life. 
During the 4 phases of construction, the Galerie des Machines will be a space where you can share and talk about the artistic adventure of the Heron Tree!