Heron Tree
On July 2017, Johanna Rolland, Mayor of Nantes and President of Nantes Métropole announced the launch of The Heron Tree project. It will be carried out over 5 years, the grand opening thus set for 2022 at the Misery quarry.
The Heron Tree will be located in the heart of the Extraordinary Garden which already occupies the western part of the quarry. The Heron Tree will take its place there and the whole will become a unique urban garden in the world.
The study phase began in 2018 and was completed in 2021. The adventure of building the Heron Tree is a shared project. It will begin in 2022 and will be completed in the spring of 2027. This unusual construction site will be a show site visible from the top of the cliffs of the quarry.
The creation of an endowment fund for the Heron Tree by Nantes Métropole has allowed for public and private partners to work together. It also opens the possibility for individuals to share in this artistic adventure.
The participative financing campaign launched in 2019 was a real success. Thank you to the 5511 friends of the Heron Tree! This campaign is now over, but many of you still want to support the project.
Contact us to do so: participer@arbreauxherons.fr
Read more about the Heron Tree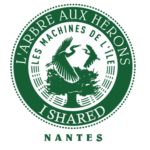 ---
The Heron Tree in the Galerie des Machines
Since the launch of the 2017 planning phase for the Heron Tree, the Galerie des Machines has been a place to share this incredible artistic adventure, which is also a great technical and industrial challenge. Like the growth of a tree, its construction is a living process.
In 2018, the prototypes essential to the studies are set up in the Galerie des Machines. A large 1:5 scale model of the trunk, branches, struts and roots assembly are on display, as well as a giant hummingbird gathering nectar from a flower, a flock of wild geese, the sloth, the courtship of two birds of paradise, the giant chameleon… these are the first elements of the tree's mechanical menagerie.
Until the last months of its growth, the expansion of its foliage and the installation of the props that take up the load descents, like the roots of a giant banyan tree, the Galerie des Machines will report on all the progress of this extraordinary project.